How am I ever going to get a decent amount of followers when I constantly fall of the blogging bandwagon?!
I have been rather busy lately, busy watching my little love grow up right before my eyes, that is. My goodness, I can't even type this without crying. I don't get emotional about much but when it comes to my child, I am a ball of mush. We have walking, friends! Yes, my little 7 pound, 11 ounce baby has grown into a 27 pounds, 32.5 inches little boy. A little over a week ago he just got up and started taking 8-10 steps at a time, and yep, his momma cried. Actually, she bawled. We waited so long for those moments and had so many neigh-sayers telling us that something was wrong with him, that those first steps were really rather big strides. I could not be more proud. Call me crazy, but I swear his vocabulary even seems to be growing like wildfire since those first steps. Growing before our eyes, I tell you!
Unfortunately, there has been a very minor setback with this huge milestone. Aydan was diagnosed with Torticollois and Plagieocephally at two-months-old, we have been kicking it's butt with some hardcore physical therapy for over a year now and from what we can tell the Torticollis is causing some problems with his walking. He turns his feet a little more than he should and he also drags his right foot. We had an appointment with his therapist to see about getting him some orthotics last week, but unfortunately she called in sick. I am anxious to get this appointment over with, especially since we are moving at the end of this month but mostly because if there is an issue that needs to be fixed, I want it fixed. I'm sure my momma friends know what I mean. I will definitely keep y'all updated, in the meantime, any prayers are appreciated. We are so lucky that this "mountain" is the only mountain we are faced with, I know there are so many other children and their parents battling mountains much bigger than ours.
Bryan is still at AIT kicking some serious tail, I couldn't be more proud of him. This reclass is nowhere near what we had in mind, but I think we are both adjusting and making the best of it. Not to mention, our house rented out which is honestly a huge weight off of our shoulders. Aydan and I will be staying with family in Florida, soaking up the Florida sun until Bryan graduates AIT.
Needless to say, I do have a big move ahead of me but I have every intention of staying on the bandwagon, I promise!
Until next time, here are some of my favorite pictures as of recent: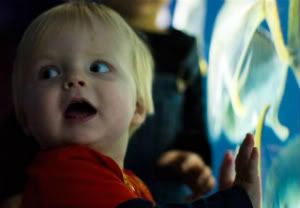 We recently visited the Georgia Aquarium and Aydan was rather fascinated by some pretty ugly fish!
Aydan has been soaking up time with his Daddy Monkey while Daddy is away.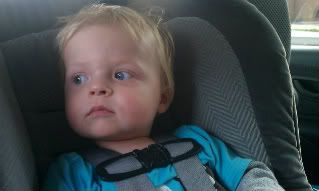 Since I was recently referred to as a car seat Nazi, I will proudly say that this handsome fella is 15 months and still rear-facing.